bedrooms that invite you to contemplation
at chetzeron, every space is inspired by the mountains. the architecture of the building and its interior design have been entirely conceived so that the establishment blends into the landscape and is in harmony with its environment.
we have therefore also designed our 16 bedrooms and suites in this state of mind, where simplicity and authenticity blend with comfort and elegance. thanks to their uncluttered design, they invite the customer to go back to basics. Instead of adding superfluous elements, we decide to keep only the necessary furniture and objects so that the customer can concentrate on the essential: himself, the beauty and immensity of the surrounding nature.
thanks to their spacious bay windows, our rooms offer a unique view of the highest peaks of the alps. and, so that you can enjoy the show long and comfortably, benches at the foot of the windows have been installed. thus, you will be able to admire the exceptional landscape during long privileged moments.
the experience of contemplation extends even into the bathrooms. thanks to a clever set of claustra or a bay window, you can enjoy the panorama while taking a shower or brushing your teeth.
chosen by chetzeron owners, the materials are also reminiscent of this alpine environment: wild oak wood and st-léonard stone dominate. they create a subtle balance between the rustic character of the mountain and its warmth and create a serene and soothing atmosphere.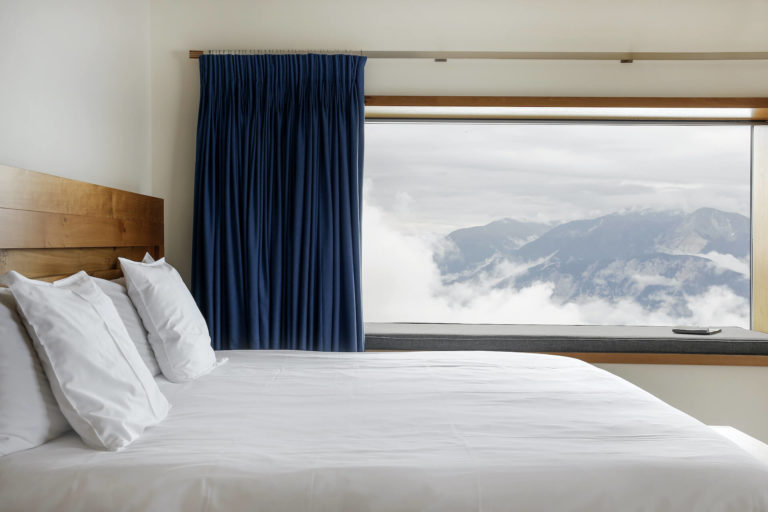 our bedrooms, spread over three levels, are composed of three categories: upper valley, deluxe corner and junior suite. each bedroom is named after a peak and thus offers you a journey through the Alps. our 9 "valées suppérieures" are called trubelstock, mont bonvin, mont lachaux, torrenthorn, schwarzhorn, bella tola, zinalrothorn, monte leone and fletschorn. our 4 deluxe corners have been named weisshorn, monte rosa, wildhorn and bishorn. finally, our 3 junior suites are called grand combin, matterhorn and mont blanc.
our bedrooms and suites all include a king size bed, a bench to contemplate the view, a flat screen TV, a blu-ray player, a wifi connection, a direct telephone, a safe, a minibar, a hairdryer, a towel dryer and bath products made from local plants created by Sami Lamaa and the d&a laboratory. however, each of our categories has its own specificities.
our upper valleys have a surface area of 30 m2 and have a bay window facing east on the rising sun. they thus benefit from a view of the haut-valais as far as the col du simplon. our deluxe corners have a surface area of 38 m2 and benefit from two bay windows, giving them a 180° view. you can either admire the south of the Valais Alps with the famous cinq 4000 or the magnificent tseuzier lake. finally, ideal for families, our junior suites have a surface area of 50 m2. there, the bay windows look out over the southern Alps and the setting sun to the west. from their benches, you can observe the alpine chain which extends over france, with the mont-blanc in the distance.
our accommodation is an invitation to travel, an invitation to take a break. a call to contemplation and the silence of the mountains. enjoy these magical moments that nature offers you, relax and soak up all its good energies.